If you are a long time subscriber to my blog here at OzarksDetector.Com then you have watched it grow through the years.  It has come a long way since the beginning, and continues to get better in both content, and popularity/ visits.  The site has turned out way more than I had anticipated originally and I couldn't be happier with it.
Recently I logged onto my twitter account and saw the following message:
Now That's Cool!  I've really enjoyed blogging, and sbaring my little piece of Arkansas with my readers/ subscribers through the years.  I've enjoyed reading all of your posts, blogs, etc as well.  You've all made my blog one of the most popular metal detecting blogs on the internet through the years, and for that I appreciate each and every one of you for sharing, liking, and subscribing to Ozarks Detector metal detecting blog.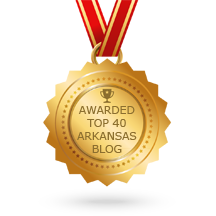 I have a huge project I have been working on, and I simply can…not…wait… to share with you what I am working on.  You know me, never been one to shy away from making a difference in our hobby and this new project will be my biggest and best contribution to our hobby, yet.
To be in Arkansas Top 40 blogs is an honor, and I am proud to be among the other awesome Arkansas blogs!